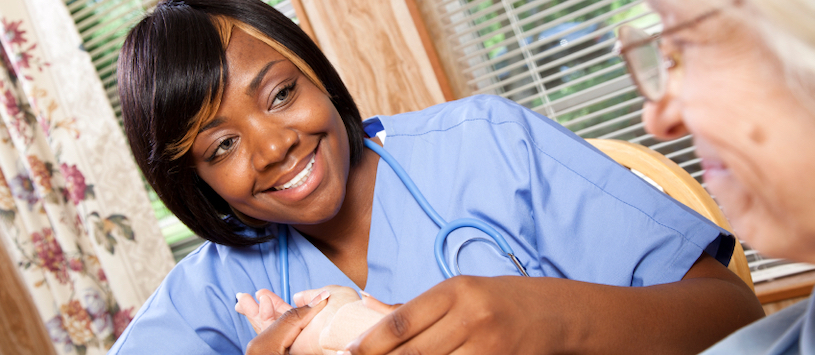 If You're Sick of Being a CNA Consider 'Leveling up' With Medical Assisting Training at First Institute in Illinois
Certified Nursing Assistants (CNA) vs. Medical Assistants – a lot of people lump the two professions together, but in reality, they're entirely different. In this blog post, we'll look at the advantages and drawbacks to being a CNA and examine where to go from there.
The Upshots of Being a CNA
Advantages – You can complete your CNA training in a matter of months and be out in the field working in no time.
Drawbacks – While it's a great introduction to healthcare, many people find themselves getting 'stuck' as a CNA since there is not much room for advancement within that position. Since CNAs lack in-depth training, they get assigned basic tasks that some may find undesirable (sponge baths, cleanup, etc.). Many CNAs also find themselves getting physically and emotionally burnt out. They know they need a career change, but they don't want to switch industries entirely.
The Solution? Medical Assisting Training!
Working as a CNA may be a great 'starter position' to get your feet wet in the medical field, but many aspire to go on to become a Medical Assistant or Nurse. And it makes sense, as a CNA you're already familiar with the healthcare environment, and how to conduct yourself in a medical setting. It's a gateway to more advanced positions.
While CNA's are limited to helping patients with hands-on activities of daily life and reporting to nurses, the role of a Medical Assistant is more well-rounded, and some would say, exciting. As a Medical Assistant, you'd get to take on 'meatier' tasks, including patient care, medical administrative work, and assisting with physicians. Medical Assistants are unique in that they cover all areas of a healthcare environment – clinical tasks, administration, and more.
If you'd like to take on more rewarding healthcare tasks, think about taking a year out of your life to complete Medical Assisting training. It will open so many doors for you!
If you're a CNA looking to stay in healthcare and build on the skills you've already got, consider the Medical Assisting program at First Institute. Give us a call at 815-459-3500 today to learn more.