Medical, Dental, and Massage Therapy Career Training
Health and Wellness Career Training in Crystal Lake and Libertyville, Illinois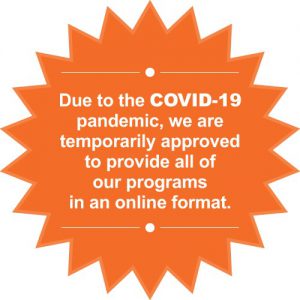 The State of Illinois has moved into Phase 4 of the opening plan on June 26, 2020. First Institute has now resumed on a limited basis scheduling in-residence classes and all students will be notified with a start date and schedule as to when they will start back in classes at the campus. We will resume instruction in the classroom in a very structured environment with student and faculty safety being the highest priority. All individuals entering the building will have their temperature taken and have to respond to a few questions regarding their exposure to COVID 19. We will continue to provide scheduling updates and other pertinent information as it becomes available.
Career Focused Training. Real World Experience. Personalized Instruction. Discover the First Institute Difference…
If you're ready to make a change and to build a brighter future, First Institute can help! Thousands of graduates have turned to First Institute for the training and support it takes to succeed in rewarding healthcare careers.
Our career-focused, hands-on training and personalized instruction will get you on the path to a rewarding professional career, without spending years in school.
Dental Assisting

As a Dental Assistant, you work closely with dentists to help people achieve and maintain a great smile, and help to ensure the office runs smoothly. Learn more.

Medical Assisting

If you're interested in a healthcare career (without spending years in school) training as a Medical Assistant could be a great opportunity. Learn more.

Massage Therapy

If you're looking for a rewarding career in health & wellness, becoming a professional Massage Therapist could be an excellent opportunity. Learn more.
The First Institute Difference
We are committed to your success. From the moment you tour our campus for the first time, you will feel like family. For over 30 years, we have designed hands-on training programs to meet the job market so that our graduates feel confident in their new careers.
Industry Experienced Instructors – Our instructors have worked in the industry and are here to share their experience and expertise, while providing the education you need to graduate with a well-rounded understanding of your chosen field.
Real World Experience – Work with real patients under the guidance of experienced professionals. This means you'll get the chance to apply the skills and knowledge you've acquired in the classroom and labs. You'll also gain valuable on-the-job experience before you graduate.
Small Class Sizes – This allows for more personalized, one-on-one instruction than you would get at a larger school.
Career-Focused Training – At First Institute, we believe that comprehensive, hands-on training is the best way to learn.
Placement Assistance – Our staff actively reaches out to industry employers to ensure that all First Institute training is up-to-date and students are ready to excel in their chosen careers upon program completion.

An Accredited Institution
First Institute is one of only a few accredited colleges in Crystal Lake. We are proud to be nationally accredited by the Accrediting Council for Continuing Education and Training (ACCET), which is listed as a nationally recognized accrediting agency by the United States Department of Education. Their mark of approval is an independent sign of our high educational standards. We also adhere to the rules and regulations of the Illinois Board of Higher Education.
Convenient Schedules
First Institute programs are tailored for busy adult learners. Many students are working and/or raising families while going to school. With First Institute's Day and Evening class options, you can choose the schedule that works for you.
Such a great school! Had the best teacher. I was beyond prepared when it came to my first job in the dental field. I'd recommend this school to anyone who is looking into dental assisting!
Is a Rewarding Career in Healthcare Right For You? Get More Info…
If you're interested in learning more about a rewarding career in the healthcare industry, and exploring whether First Institute is right for you, fill out the form on this page to receive more information.
For immediate questions, call 815-459-3500