About First Institute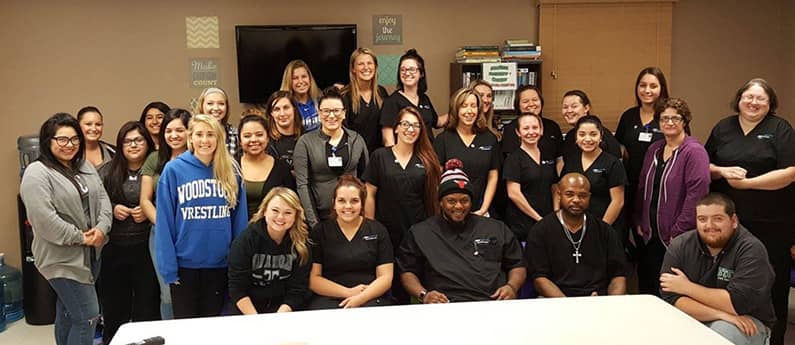 Your Path to a Successful Career Starts Here!
Are you looking for valuable skills that will help you stand out in a competitive job market? Working in the healthcare industry can be not only exciting and challenging, but is also a rewarding career option because your job will be to help people feel their best.
Our Mission
First Institute meets the educational needs of students, employers and the community by designing quality occupational specific training programs utilizing relevant methodology practices.
Focused Training – Get Skilled Sooner
We believe that comprehensive, hands-on training is the best way to learn. Our instructors have worked in the industry and are here to share their experience and expertise, while providing the education you need to graduate with a well-rounded understanding of your chosen field.
We specialize in Medical Assisting, Dental Assisting and Massage Therapy career training programs that feature:
small class sizes — for more personalized instruction than you would get at a large school
hands-on learning — because performing the skill is as important as knowing the theory behind it
practical skill application — so you are fully trained and ready to move into your new career
Over 30 Years Preparing Students for New Careers
First Institute has been preparing students for rewarding careers since 1982. We operate on the principle of career-focused training, so you can gain the skills, experience and connections to pursue a rewarding new career.
While First Institute's programs have evolved over the years to meet the demands of the job market, our total commitment to exceed our students' expectations has always remained constant.
Learn more about our History
Stay Ahead of the Curve
A key quality of First Institute is its ability to stay nimble. First Institute is focused on identifying where the job market is heading and what the needs of employers are. This adaptiveness has contributed to First Institute remaining ahead of the curve and competitive. First Institute has been adept at recognizing a need and filling that niche with top quality vocational training!
First Institute has gone through multiple metamorphoses. Initially a travel agency and school, it has transitioned from providing computer applications and IT training, to healthcare, dental and massage training currently.
First Institute has now specialized in the healthcare field for over 13 years. The school has blossomed to offer top-notch instruction pertaining to health and wellness; check our Medical Assisting Program, Dental Assisting Program or Massage Therapy Program.
Family First
First Institute started as a family business and it has stuck to those morals ever since, serving the needs of the community by designing quality occupational specific training programs for over 30 years.
During the late 1970s and early 1980s Ron and Judy Beier, the founders of First Institute, ran a travel agency. They noticed that they could not find qualified travel agents to help them with their business. Recognizing a need, they decided to provide training.
In 1982 the Beiers opened First Institute in a 2 story house in Crystal Lake, Illinois. The travel agency was upstairs and the classroom was located on the first floor. By day the Beiers would run the travel agency and in the evening, when Travel First was closed, they would run night classes using the Computer Reservation System that Travel First used by day.
In 1989 First Institute and Travel First moved to its current location at 790 McHenry Avenue in Crystal Lake. Significantly, First Institute also received accreditation from their current accrediting commission, ACCET.
At the end of the day First Institute remains a family business. The next generation of Beiers are taking the reins, committed to serving community needs. Ron and Judy's 2 sons, Eric and Kurt Beier are now the Executive
Convenient Day & Evening Schedules – Get Organized
First Institute programs are tailored for busy adult learners. Many students are working and/or raising families while going to school. With First Institute's Day and Evening class options, you can choose the schedule that works for you.
Financial Aid
At First Institute, we believe that concern about college affordability shouldn't keep you from attaining your education and pursuing your dreams. Financial aid is available for those who qualify. An experienced First Institute Financial Aid Advisor will help determine your eligibility, explore the best options for you and support you every step of the way through the application process.
Visit our Financial Aid page for more details.
Placement Assistance – Get The Support To Launch A Successful Career
Healthcare industry training is about more than getting a certificate to hang on the wall – it's about getting a rewarding career you can be proud of. Our Career Services Department offers students energetic and effective career search services.
In addition to ongoing career-direction advice, we provide in-depth advising and instruction on career search strategies, resume writing, interview techniques, and networking opportunities.
Our staff actively reaches out to industry employers to ensure that all First Institute training is up-to-date and students are ready to excel in their chosen careers upon program completion.
While First Institute cannot guarantee job placement, our Career Services Department maintains constant contact with prospective employers throughout Illinois to advise them of talented students' abilities and availability.
Accreditations & Affiliations
First Institute is one of only a few accredited colleges in Crystal Lake. We are proud to have Approval to operate by the Illinois Board of Higher Education and are accredited by the Accrediting Council for Continuing Education and Training (ACCET), which is listed as a nationally recognized accrediting agency by the United States Department of Education. We also adhere to the rules and regulations of the Illinois Board of Higher Education.
Our Commitment to You
At First Institute, we are committed to providing a safe and healthy learning environment, as well as clear indications that you are getting great value for your investment in education. Here are resources that you will find helpful in making your decision to enroll.
Is First Institute Right For You? Get More Info…
For more information on career training and to explore if First Institute is right for you, check out our programs, fill out the form, or give us a call at 815-459-3500