Career Training Health and Wellness Programs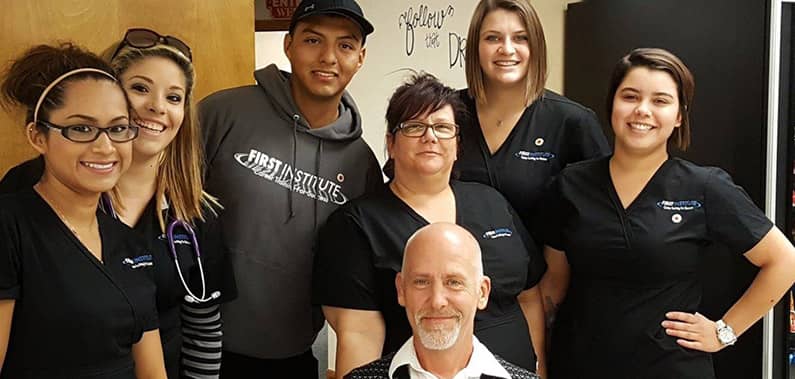 Hands-On Training for Your Passion for Helping
People who choose Health and Wellness as a career are special people. Just like you, they have a passion for helping others and we're willing to bet you've also known for a while you were drawn, almost like a calling, to help and support those who have needed assistance in some way. Chances are, even your friends and family have mentioned just how natural it is for you.
At First Institute, we provide career-focused Medical, Dental and Massage Therapy training programs designed to give you the skills and experience you need to excel in your chosen field. Our nationally accredited programs can help you get the training you need to start a new career you're excited about.
Each of our programs provides you with hands-on training, personal attention from our industry-experienced instructors and a professional externship.
Program Options
Dental Assisting

As a Dental Assistant, you work closely with dentists to help people achieve and maintain a great smile, and help to ensure the office runs smoothly.

Massage Therapy

If you're looking for a rewarding career in health & wellness, becoming a professional Massage Therapist could be an excellent opportunity.

Medical Assisting

If you're interested in a healthcare career (without spending years in school) training as a Medical Assistant could be a great opportunity.
Students like you have chosen First Institute to:
Prepare for rewarding careers that allow you to thrive
Gain experience that helps you grow professionally and personally
Benefit from our job placement assistance
Get real-world work experience through externships
Prepare for today's workplace settings
Not Sure What Program is Right For You? We Can Help!
A friendly and knowledgeable First Institute Advisor would be happy to answer any questions you have.
You can even come in for a tour of our professional labs, Healing Arts Center, and other facilities and see for yourself if First Institute is a good fit for you.
For more information right away, fill out the form on this page or call 815-459-3500