Hours of Operation
Monday – Friday: 8AM – 5PM
Medical Assisting Career Training in Aurora, IL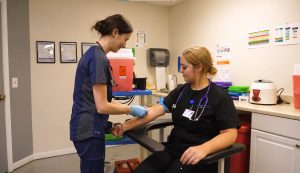 At First Institute of Aurora, IL, we provide students the opportunity to develop the skills they need to enter the field of medical assisting. Our experienced instructors keep abreast of the expectations of employers to better turn students into qualified professionals. We also offer lifetime placement for graduates to find the best possible position.
Key to our success is our adherence to a comprehensive, hands-on philosophy of training, as well as flexible online learning. Our methods have seen us through forty years, and we have thus produced countless graduates who go on to make a positive impact in the overall field of medical assisting. Students from Oswego to Oak Brook, and Elgin to Joliet, will appreciate the accessibility of our newest location. Located on the corner of the North Eola Road and East New York Street, there is plenty of parking as well as convenient shopping and dining options nearby.
Find out more by getting in touch with First Institute of Aurora, IL today.
First Institute of Aurora, IL offers online training in the medical assisting field, which covers:
Anatomy, physiology, and pathology;
Medical terminology;
Billing and insurance claims;
Law and ethics;
And more