Dental Assistant or Dental Hygienist – What's The Difference?
October 27, 2016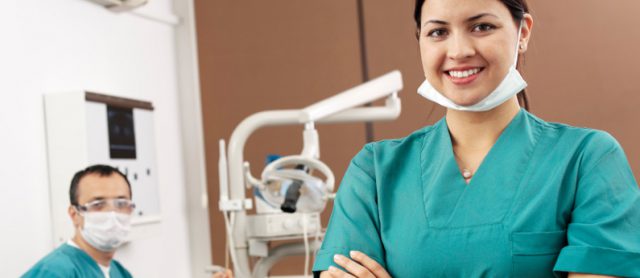 For the average person visiting the dental office, there doesn't appear to be much difference between all those people wearing uniforms and face masks. Everyone wants you to open your mouth while they use instruments to inspect and maintain your teeth, right? So what is the difference between a dental assistant and a dental hygienist? Let's clarify the two roles right here.
A Dental Hygienist Specializes in Cleaning and Prevention
Dental Hygienists are trained in the specialty of cleaning teeth, using both hand and power tools. Most people can't – or don't – get all the tartar, stains and plaque off their teeth with their daily brushing routine. And many people's flossing habits are a patchy assortment of good intentions, particularly the week before their cleaning appointment! A Dental Hygienist can get all those missed spots and educate patients on better brushing habits.
Dental Hygienists usually work in a dentist's office, though there are increasing numbers who are in their own stand-alone clinics where regulations allow. Those in the dentist's office report their findings to dentists. Their training is typically an associate's degree and takes approximately three years.
Dental Assistants are the Dentist's and Patient's Main Support
Dental Assistants are the extra hands, eyes and ears of the dentist. This multi-faceted position requires a wide range of skill, including:
Preparing the treatment area
Recording what the dentist observes
Assisting with procedures
Monitoring patient comfort
Taking x-rays
Sterilizing equipment
Recording treatments for billing and coding
Scheduling appointments
However, you don't need a degree to become a dental assistant. First Institute's Dental Assisting Program can be completed in as few as 50 weeks. If a health-oriented career with a lot of variety appeals to you, you may be a good candidate for studying dental assisting.
Find Out More About Dental Assisting
First Institute is proud to offer a Dental Assisting program that includes hands-on learning, professional instruction, experience with real patients and externships. Our goal is to to give you practical experience, for a rewarding career you care about. To find out more, contact one of our friendly Admissions advisors today or give us a call at 815-459-3500.
Learn more about First Institute's Dental Assisting program: