Dental Assistants Reduce Patient Fear
August 16, 2016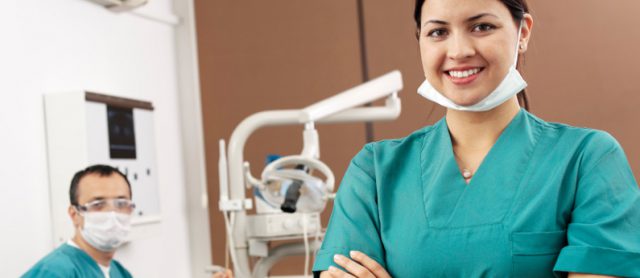 We all know someone who breaks into a cold sweat at the thought of a visit to the dentist's office. Perhaps they had a bad experience in their past, get jumpy around pointy metal instruments or are afraid of what the dentist might find. Whatever the case, the Dental Assistant has the best chance to soothe any patient's fear, because they spends a lot of time with the patient.
What causes patient fear?
Most experts break down the causes of patient fear of three things:
Fear of loss of control
Fear of embarrassment
Fear of pain
Fear of Pain
Of these, the fear of pain is likely the easiest to manage. Between medical interventions such as topical and injected local anesthetic, and distractions like on-demand TV, pain does not have to be part of dental treatments.
Fear of Loss of Control
A more pervasive fear, and one that is more challenging to manage chair-side, is a patient's fear of loss of control. This is where the skill of a Dental Assistant can really shine. Since communication is key to giving the patient as much control as possible, the Dental Assistant can:
Find out about previous experiences and what to watch out for
Tell the patient what to expect at each stage of the procedure
Arrange a signal that the patient can use to ask for a break during a procedure
Allow patients to handle equipment such as the saliva ejector, and to ask for it with another signal, as well.
Fear of Embarrassment
Embarrassment keeping people from the dentist's office is a vicious circle. Less than optimal oral hygiene leads to avoiding the dentist, so problems aren't dealt with and oral hygiene gets worse. But it doesn't have to be that way. One of the first questions to ask when taking on a new patient is "How long has it been since your last visit to a dentist?" If it's been longer than a year, then ask some tactful questions about the reasons for not seeing a dentist and any concerns the patient may have. Now is a great time to take a few extra minutes and ease any anxiety. On the other hand, the patient may tell you about her anxiety that she has bad breath; you could put her at ease by offering mouthwash and paper cups in the restroom.
Learn How To Handle Patient Fears
Chair-side manner is a key component of dental assisting, and developing great relationships with patients is one of the most rewarding aspects of the job. But even naturally people-oriented students can learn more tips and techniques to boost their skills. At First Institute, we make sure that you are as prepared to handle patient anxieties as you are to take impressions and x-rays. Our Dental Assisting program gives you the hands-on, career-focused experience you're looking for.
Could this be the career opportunity for you? Find out by taking our career-readiness quiz, contact an Admissions Advisor today or give us a call at 815-459-3500.
Learn more about First Institute's Dental Assisting program: