Endodontic Dental Assistant
April 23, 2015
The Dental Assistant program at First Institute in Libertyville and Crystal Lake is designed to prepare students for an entry-level position in a dental office setting. In general Dental Assistants can do anything from administrative to clinical duties. Some Dental Assistants specialize in a specific type of dental practice. If you get your degree as a Dental Assistant you might find that you would like to specialize as well. One specialization opportunity would be to assist a dentist who does Endodontics.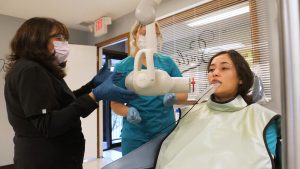 Endodontics is a dental specialty dealing with the treatment of dental pulp. The most common procedure performed by an Endodontist is a root canal. When the dental pulp becomes injured or diseased a root canal is performed to save the tooth. Like with any dentist, Endodontists also have dental assistants. These assistants can help assist them during the root canal procedures.
Endodontist's Dental Assistant
An Endodontist's Dental Assistant can help with preparing a patient for their root canal. A Dental Assistant that specializes in endodontics often performs many of the same tasks as the typical Dental Assistant. They can do things like sterilizing instruments, prepare the instrument trays and hand the dentist the appropriate dental instruments during the procedure. They also use section and water to keep the patient's mouth clear.
First Institute's Dental Assistant Program
If you are interested in becoming a dental assistant you may choose to specialize in endodontics. At First Institute you will learn about endodontics as a part of the Dental Assistant program. If you are interested in becoming a dental assistant the first step is getting your degree. Call First institute today at 815-459-3500.
Learn more information about First Institute's Dental Assistant program: