Where Can I Go to Become a Dental Assistant?
October 2, 2023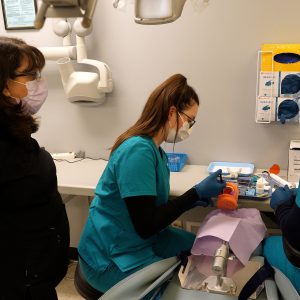 Are you interested in becoming a dental assistant but don't know where to find the right program? Then this article is for you.
Dental assisting is a fulfilling career with plenty of opportunities. However, it's important to make sure you choose a reputable program that will offer everything you need to succeed.
Well-regarded dental assistant programs like First Institute's program can offer a world of benefits to your dream career.
Here's what you'll need to know to get started.
Educational Options and Career Pathways for Dental Assistant Students
Dental assisting is one of the fastest-growing occupations in the United States. According to the U.S. Bureau of Labor Statistics, the employment rate for dental assistants is anticipated to grow by 8% from 2021 to 2031, with 56,400 job openings projected annually.
This growth has proven to be much faster than the average for other occupations, with the key factors being workers moving into other careers or retiring from the workforce.
To become a dental assistant, you can choose from a variety of educational options, including associate degrees and certificate programs.
The certificate programs are offered through courses such as the program offered at First Institute. At First Institute, we can help prepare you for positions within the dental industry.
How Can First Institute Help in Your Dental Assisting Career?
First Institute's Dental Assistant Program can help you have a solid foundation in dental science, dental office procedures, and patient care.
Here is what we offer aspiring dental assistants:
Effective Curriculum
Our dental assistant program provides students with a comprehensive education in dental assisting.
Our program combines classroom instruction with direct training in a dental office setting, ensuring that you receive a well-rounded education and are prepared for the demands of your future careers.
The curriculum covers a wide range of topics, including:
Dental terminology
Dental materials and instruments
Chairside assisting techniques
Radiology and X-ray procedures
Infection control and sterilization methods
Dental office management
Career Services and Job Placement Assistance
First Institute offers exceptional career services and job placement assistance for our dental assistant program graduates.
Our dedicated career services team provides support in various areas, including resume preparation, interview coaching, and job search strategies. They work with students to help them secure employment in dental offices, dental clinics, and other healthcare facilities after completing the program.
In addition, First Institute maintains a strong network of industry connections, which can offer valuable job opportunities for graduates.
Become Part of the First Institute Family
Looking for dental assistant programs near me?
Get an education and training unlike any other at First Institute—which will allow you to set yourself up for success in your dental assisting career.
Visit our website today to join our dental assistant program and learn more.