How to Become a Dental Assistant
January 26, 2023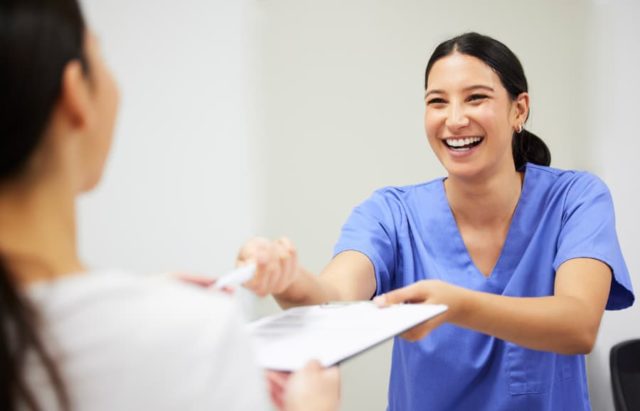 Dental assistants play a key role in the quality of care patients receive. They complete a handful of clinical and administrative tasks and aid in several dental procedures. Being a dental assistant can be extremely rewarding and comes with a wide range of great benefits, making the role highly sought-after.
To successfully become a dental assistant, individuals need the proper healthcare training and qualifications. First Institute offers dental assistant training in the Chicagoland area. Here, we discuss how to become a dental assistant and key steps for those interested in following this path.
What Does a Dental Assistant Do?
Dental assistants are important members of a dental office because their work helps contribute to a properly functioning clinic. They ensure all patients receive the best dental care possible by assisting doctors with various duties. Often, they help improve the clinic's productivity, educate patients, and work to make the clinic as safe as possible. Common responsibilities of dental assistants include:
Scheduling appointments for patients
Prepping exam rooms, ensuring all necessary equipment is neatly laid out
Preparing patients for treatments
Aiding the dentist during dental procedures
Making tooth impressions for various dental purposes
Sterilizing equipment to meet safety standards
Administering X-rays
Teaching patients to properly brush and floss
Providing oral hygiene supplies and informational materials when needed
Cleaning up exam rooms after appointments
Performing general office administrative tasks
Steps Needed to Become a Dental Assistant
Before pursuing a career as a dental assistant, there are a few educational and experience requirements one must obtain. These are required to ensure dental assistants are properly qualified to perform the tasks of this role safely and efficiently. They include:
Completing a Dental Assisting Program
The first step toward becoming a dental assistant is to enroll in an accredited dental assisting program. Here, students will learn the necessary skills and knowledge needed to perform the job successfully.
Attaining Certification
After receiving the proper education, the next step is to become certified. Obtaining your certification can make you a more attractive candidate to an employer and demonstrate your dedication to the industry. Before applying for any certifications, be sure to check with the Dental Assisting National Board or your state's dental board about specific requirements.
Prepare Your Resume
Once completing all necessary educational and certification requirements, the next step is to prepare your resume for your upcoming job search. Your resume should include all relevant education and experience that relates to the dental assisting profession, such as where you received your formal training and any externship you completed.
First Institute students who are unsure of how to properly format a resume or cover letter can reach out to the personnel in the career services department, which will help guide them through this process.
Apply for Dental Assistant Positions
You are now ready to begin applying to dental positions you feel suit your needs. When looking, carefully evaluate the job description of each open dental assistant position. This will give you a better understanding of the requirements of the role and help you determine your qualification.
Begin Your Journey at First Institute
Students in the Chicagoland area interested in pursuing a career as a dental assistant can begin their journey at First Institute. With our dental assistant schooling, students receive hands-on training from an exceptional team of instructors. We offer flexible scheduling to students, allowing them to receive the education they desire while managing other important life responsibilities.
For more information on how to become a dental assistant or about our program at the Crystal Lake and Libertyville campuses, contact us today at First Institute.
Learn more about Dental Assisting: