How to Become a Medical Assistant
December 22, 2022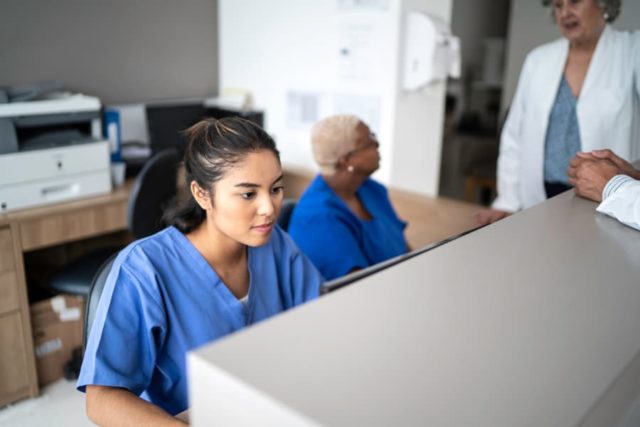 The quality of care patients receive is not only dependent on their doctors and nurses, but their medical assistants, as well. Part of the medical team, medical assistants work side-by-side with other medical professionals, providing aid where needed. This in-demand occupation involves a mix of clinical and administrative responsibilities.
Aspiring medical assistants need adequate healthcare training to gain access to this rewarding career path. First Institute, a career training institution that has been helping students in the Chicagoland area achieve their goals for over 40 years, offers a path toward becoming a medical assistant. Offered at all our locations, the medical assisting program features a career-oriented curriculum, equipping students with the necessary skills and knowledge to perform the job successfully. Here, we discuss how to become a medical assistant and the ways First Institute can help you along the way.
Steps to Become a Medical Assistant
Many individuals pursue medical assisting because it is one of several healthcare jobs that are fulfilling on their own while opening doors for career advancement. To enter this career field, you will need the right qualifications. The following steps can help you become a medical assistant:
Enroll In and Complete a Medical Assisting Program
Medical assistants must be well-educated in a variety of healthcare topics. Possessing the appropriate knowledge and skills is imperative to the safety of patients. Enrolling in and completing the medical assistant program at First Institute will prepare you to successfully carry out the duties of this position.
Participate in an Externship
Externships provide students with a great opportunity to receive professional experience in a medical setting. They allow you to apply what you have learned in the classroom while under the supervision of licensed medical professionals. Furthermore, they enable you to see firsthand the daily routine of a medical assistant.
Obtain Your Certification
Obtaining a medical assistant certification demonstrates your knowledge of the role and your dedication to the healthcare industry. While earning a certification is not always a requirement to enter the field, many employers prefer it, making you a much more attractive prospect when applying for a job. Furthermore, certifications also may lead to higher annual salaries.
It's important to note that certifications in medical assisting don't remain valid indefinitely. Very often, they require retaking and passing an exam or earning a specific number of continuing education credits. Keeping your certifications up-to-date is important to remain a top candidate for new positions or promotions.
The First Institute Difference
At First Institute, we are dedicated to seeing our students succeed and achieve their dreams of becoming medical assistants. In addition to a well-thought-out curriculum, we also offer job placement assistance through our career services department. Current students and graduates take advantage of our services, as we are pleased to offer lifetime placement assistance for all individuals who have completed one of our programs. From providing the best job search techniques to offering interview prep to hosting networking opportunities, members of our career services department are there to help every step of the way.
The team at First Institute believes a person's financial situation should not hinder their ability to receive the education they desire. We are happy to offer financial aid to students who qualify, helping ease their financial burden.
Take the First Step Toward a Medical Assistant Career
First Institute offers outstanding career training to students at three campuses in the Chicagoland area. To learn more about our medical assisting program and how First Institute can help you on your journey to these healthcare jobs, contact us today.