Many Smiles Ahead for Dental Assisting Trainees at First Institute!
June 21, 2017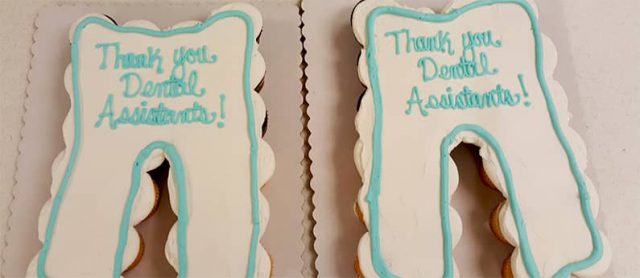 Searching for a Dental Assisting Program in Crystal Lake or Libertyville? Look to First Institute!
Dental Assistants are an essential part of any dental office. They perform many tasks: providing patient care, record keeping and scheduling appointments, getting materials for procedures, and assisting the Dentist as an "extra set of hands" during some procedures.
There is a positive job outlook for Dental Assistants, with many new positions opening up in the years to come. Read on to learn specific job growth statistics and job duties of Dental Assistants.
Dental Assistant Duties and Responsibilities
The following are common tasks for a Dental Assistant position:
Ensure patients are comfortable in the chair
Prepare patients and the area for treatments and procedures
Sterilize dental instruments
Hand instruments to dentist during procedures
Keep patient's mouth dry with suction hose and other equipment
Instruct patients on proper oral hygiene
Process x-rays and complete lab tasks
Keep records of dental treatments
Schedule patient appointments
Work with patients on billing and payment
*While there are core tasks that each Dental Assistant must be familiar with, their duties will vary by state and by the dental office in which they work.
Difference Between Dental Hygienists and Dental Assistants
Though they both are essential to the effective functioning of a dental office, Dental Assistants have a very different role from Dental Hygienists.
Dental Hygienists are responsible for cleaning and surveying the patient's teeth.
Dental Assistants work closely with, and in a supportive role to the Dentist. Dental Assistants prepare the materials that Dentists need for a procedure, help with retraction and suction, and are basically like an "extra pair of hands" to a Dentist. They help streamline surgery time and make procedures go a lot smoother.
A Bright Future (and Smiles) Ahead for Dental Assistants
Like many healthcare-related jobs, Dental Assistants have a bright career outlook ahead according to the Bureau of Labor Statistics. The BLS has estimated job growth for Dental Assistants to be around 18% between 2014 and 2024, with 58,600 jobs added to the current 318,800 employees nation-wide. That's a much faster job growth rate than the average for all occupations, which sits around 7%.
This is likely due to ongoing research linking oral health with general health. The current lifestyles trends emphasizing living well, longevity and wellbeing will likely increase demand for preventative dental services now and in the future.
Are you Interested in Taking a Dental Assisting Program in Crystal Lake or Libertyville? Call First Institute at 815-459-3500 Today!