And the Community Service Award Goes to First Institute!
December 17, 2018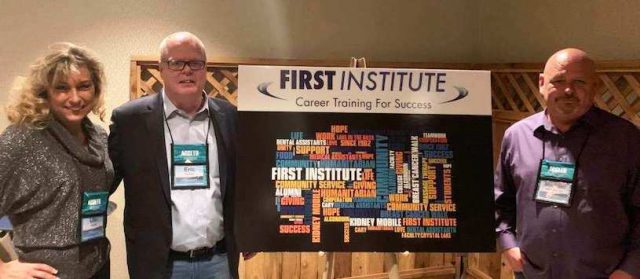 For Medical Assisting, Dental Assisting, and Massage Therapy Career Training Consider First Institute in Libertyville and Crystal Lake, IL
At First Institute we take supporting our community seriously, and it shows! That's why our accreditor institute, ACCET (the Accrediting Council for Continuing Education and Training), awarded the Thomas R. Tillia Community Service Award to First Institute. We earned it because of our positive impact on the community, not to mention dynamic school spirit – all thanks to dedicated students like you.
ACCET's Thomas R. Tillia Community Service Award press release explains, "The Thomas R. Tillia Community Service Award is presented to one institution each year at the ACCET Annual Conference. This award recognizes a school that demonstrates an ongoing, positive impact on the community by benefiting the people, the infrastructure, and/or the natural environment." As a student or alumni, you can feel proud that your school earned such an award with the help of our students.
How the First Institute Team Represented Its Students, i.e. YOU
After making the final cut, Eric, Mike, and Lisa presented on behalf of First Institute in Idaho (in November). Our staff put together a short video that shows our involvement in the community. For example, we've run blood drives, demonstrations in preschools, and more.
At First Institute, there always seems to be some event happening, aimed at increasing our students' knowledge and their sense of civic participation. If you've ever stepped foot in First Institute, or even looked at our social media, you can tell that First Institute is teaming with school spirit, and there is a palpable desire to do good within the community. We run many community events and fundraisers; that's what helps to keep our school spirit so strong!
Why Community is Important for Your Future Career
You may think, "Big deal. Why is community involvement so important to First Institute? Why is it Important for my goals?" Asides from community involvement being ethical, character building, and mutually beneficial for all involved there is another very practical reason; Massage Therapists, Dental and Medical Assistants all work with the public, dealing with the community on a daily basis. Learn how to interact with different ages, personalities, and more so that you are prepared when you go to enter your sector.
Join the First Institute Family
Which leads to the next point, one of the most common pieces of feedback that we get from students is that "they feel like they've joined a family" when they attend First Institute. Perhaps that sentiment comes from our humble beginnings – we are family owned and operated after all. And we've kept 'family values' at the center of our school philosophy and mission since then.
If you are interested in career training at a school where everyone knows your name and is 'on your side,' pushing you to succeed, consider First Institute. In addition to offering great career training, we've worked hard to create a fun, career-focused school culture where staff and students care about each other and their community – beyond the walls of First Institute!
For Massage Therapy, Medical or Dental Assisting Contact First Institute. We'll Break down Career Training to Make It Thorough and Fun, While Also Giving Back to the Community. Call [phone-link location=""].