Do Medical Assistants Get Paid More Than Nurses?
October 10, 2023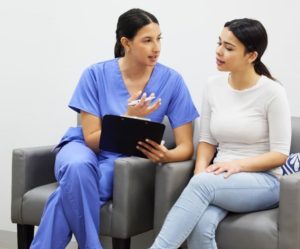 Delivering modern healthcare requires a team effort, a team that includes medical assistants and nurses. Nurses and medical assistants are separate professions that work together. They are two of the dozens of healthcare professionals that work on your healthcare delivery and maintenance team.
The short answer is no, medical assistants don't make more than nurses because they don't have the same roles on a care team. Training and schooling for nurses is either a two or four -year  degree.
In contrast, schools like First Institute are schools that quickly get people into the workforce.
Same Goal, Different Approach
A team of medical assistants, nurses, and other healthcare professionals work towards one goal– patient healthcare well-being. Medical assistant and nursing jobs complement each other, but they don't pay the same or have the same duties.
Conversely, medical assistants and nurses have separate roles that shouldn't be confused with physician assistants.
The simplest explanation for task differences is that medical assistants help medical staff provide supportive services like taking vitals and dispensing some  medications. Medical assistants help medical staff care for patients, and nurses provide specific nursing care.
Medical assistants offer critical support for guiding patients through the healthcare delivery process. For instance, they help doctors and other medical professionals in clinics, hospitals, and doctor's offices get through examinations and medical procedures.
Medical assistants can work in any setting where doctors provide healthcare. For this reason, doctor and medical assistance jobs cover all aspects of care. From helping with essential clerical work and scheduling to being on a surgical team, healthcare delivery wouldn't happen without the skill and dedication of medical assistants.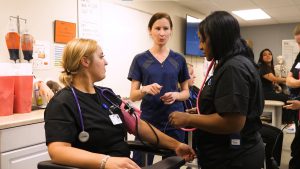 How Much Does a Medical Assistant Make?
As of May 2022, there were just over 750,000 medical assistant jobs in the U.S., with an average hourly wage of $18.40. The bottom salary was just over $14 an hour, with the top pay just over $24 per hour. You can expect steady year-on-year growth as the healthcare industry grows to meet increased needs.
Did you know earning a medical assistant certificate  takes less than a year? The schooling and training times are very different compared to a four-year nursing degree. Registered Nurses can make as much as twice as much as medical assistants. But registered nurses spend four times longer going to school.
The total cost of training and schooling for the nursing profession can cost tens of thousands of dollars. Training from First Institute gets your foot in the door for a hands-on experience.
Meet Your Future Career
To begin a career in healthcare, you don't need a four-year college degree. As a medical assistant, you can have an inside look at what opportunities may be available to you  to  pursue in the medical field.
At First Institute, we help you get started through our medical assisting program. Learn more about how to enroll now!
Learn more about Medical Assistant: