Medical Assisting School in Libertyville
Libertyville Medical Assistant School
Fast-Track Career Training
We're not going to deny it — we like to have fun here at First Institute. But that doesn't mean we don't work hard! Our students study hard (and have fun) because they know that their time here at First Institute is crucial for getting the skills that employers demand.
In just 53 weeks* our students learn:
Anatomy, Physiology and Pathology
Medical Terminology
Medical Billing and Coding and Health Records Management
Medical Insurance claims utilizing CPT-4 & ICD-9 codebooks
Medical Law & Ethics
Preparing and instructing for clinical Procedures
Medical Office Administration and Communications
Lab Procedures including EKG, Phlebotomy, urinalysis & other diagnostic testing
Medical Assisting procedures in minor surgeries, pediatrics, OB examinations, imaging, and radiology
And much more!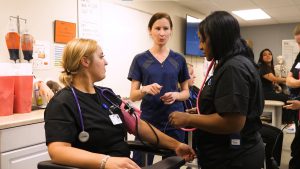 Come Take a Tour With the First Institute Gym Buff
Our facilities are top of the line, but don't take our word for it — come see for yourself. Take a tour with our FI Gym buff (featured in the video above). He'll show you the ropes and maybe even do some reps with you as well!
One of the reasons many students choose to attend our Libertyville campus is to avoid the horrendous commute to Chicago with its dense traffic and terrible parking. So for those of you just south of Libertyville, here's something the keep in mind: Chicago may be geographically closer, but when you factor in the heavy traffic, the commute actually ends up taking longer.
The Libertyville campus, however, is centrally located in Greentree Plaza, which is close to every major bus route (the Milwaukee/Greentree Parkway bus (#574) stops right at the mall). This location is also perfect for those who are driving because it's close to a major highway as well. There's plenty of parking as well, and you'll also find many restaurants nearby!
At the Libertyville Campus, we offer a Dental Assisting Program and a Medical Assisting Program. Job placement assistance is available for both students and graduates.
If you Want to get Medical Assisting Skills Check Out Our Medical Assisting School in Libertyville, IL. Call us at 815-459-3500.
*53 week program length when completed in normal time.
Learn more on First Institute's Medical Assistant Training program: