Massage School Program
May 10, 2017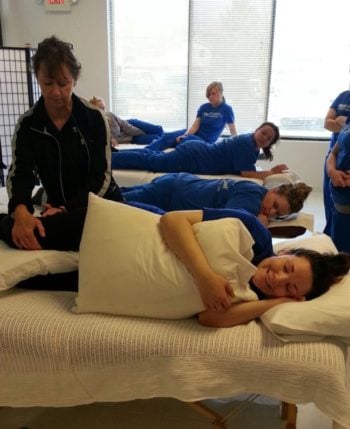 Massage Therapy School near Crystal Lake and Libertyville, Illinois
When you attend First Institute's Massage Therapy Program you'll receive hands on training, clinical experience and industry support. That paired with instructors who have years of experience working in the field makes for an unbeatable program!
You'll learn to assess musculoskeletal problems, as well as a wide variety of massage methods and techniques that address neck, back, elbow, knee, sciatic nerve, shoulder, as well as carpel and tarsal tunnel syndromes.
You can't learn a skill like massage exclusively from textbooks, you must accrue hands-on practice! Firstly, you will practice on and with your peers as you learn different therapeutic techniques.
Our 160-hour externship is geared towards you gaining practical experience. First Institute's Healing Arts Centre is ideal as it gives you an opportunity to apply classroom learning in a supervised/professional setting on real clients. This first-hand practice will make you feel confident in your skill set and help you transition from being a student to a professional.
If you plan on running your own massage practice, you'll need some business smarts. At First Institute you'll learn some practical business training, in case you ever decide to manage your own massage practice. If you become self-employed, then this is a must. Finally, we'll teach you ever important self-care techniques, because after all masseuses need to take care of themselves too!
In order to launch a successful career, it helps to have industry connections, that's where First Institute Career Services Department comes in. We cannot guarantee you a job, but we can support you in launching your career. First Institute maintains contact with prospective employers in the Crystal Lake and Libertyville, Illinois region and advises them about talented students' abilities and availabilities.
Our Career Services Department can assist you with:
Writing your resume/cover letter,
Developing interview skills, and
Assisting with job searches
Specialized Populations
If you go on to start your own massage practice, or if you work at a massage centre or an integrative care facility you will inevitably come into contact with people who have differing levels of ability (or disability). It is important that you know modifications and how to treat special populations appropriately. You may even choose to focus your practice in a certain area that caters to specialized populations.
Some areas that you may concentrate on are:
Eldercare
Quadriplegics, paraplegics
People with chronic conditions
Terminally ill people
Pregnant women and infants (prenatal massage, infant massage and child massage)
People with immune deficiencies (HIV/AIDS, Hepatitis)
Mainstream Acceptance
Massage therapy is on the rise as it is becoming more accepted in traditional medical settings. As it stands massage therapy is the most widely used complementary care field in the U.S. What explains this phenomena? First – a demographic change. Currently, the fastest growing age group in the U.S is 85+. Baby boomers are a huge cohort who are aging and will require specific care in the years to come.
With aging often comes illness. More and more people who are affected with chronic conditions are turning to complementary medicine to help combat their pain. In general, people are more enthusiastic about self-care, more concerned with side effects of medications, concerned with healthcare costs, and many consumers are dissatisfied with conventional medical care.
Now more than ever people seek to improve their quality of life and maintain their health and fitness. Aging populations are looking to live well longer, and to find relief from symptoms of conditions affecting them.
In sum, aging populations are looking to manage pain and symptoms of illness naturally at the precise moment that massage therapy is being recognized as valuable by mainstream medical facilities. This means there are expanded work opportunities for massage therapists.
Possible opportunities include:
Eldercare – the culture of aging is transforming. Eldercare is becoming less institutionalized, and more humane, focusing on person-centered care. There is a strong grassroots movement to support elder's life, dignity, rights and freedom.
Hospice – the aim of palliative care is to make a patient comfortable by alleviating symptoms of an illness. Hospice focuses on symptoms management, alleviating pain and communication.
Hospitals – hospitals are starting to offer massage therapy for stress relief, pain management, cancer and end of life care.
In total, massage therapy is an effective non-pharmacological approach to many areas of comfort care. Additionally, nursing homes, hospice organizations and hospitals are businesses too. They are continually looking for innovative programs to attract customers in their changing competitive markets. Offering massage therapy does just that!
Take the first steps to launch your massage therapy career. Give us a call at 815-459-3500 today!
More on Massage Therapy: