Qualities of Dental Assistants
July 31, 2017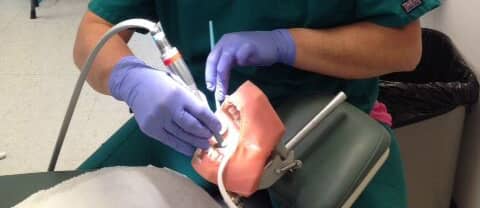 Learn the 7 Qualities that Every Great Dental Assistant Has
If you're Looking to Launch a Career in Dentistry Check out First Institute – They Offer a Dental Assisting Program in Libertyville and Crystal Lake, Illinois.
It is becoming common knowledge that Dental Assisting has a stable career outlook, which is growing much faster than the job average. The Bureau of Labor Statistics reports Dental Assisting positions have a projected 11% job growth rate between 2018-2028, much faster than the national average for all other occupations.
There are plenty of Dental Assistant job openings in Illinois. Check out job listings for both Crystal Lake and Libertyville to get an idea of what's currently being offered.
Tasks and Duties
Dental Assistants are like the "Jack of all trades" at a Dental Office. They help perform administrative duties such as: greeting patients at the door, making them feel at ease about the procedure they are about to undergo, scheduling appointments, and conducting billing and payment. Dental Assistants also do a range of clinical responsibilities such as: sterilization of equipment, assisting the Dentist with lab procedures and completing lab tasks under a Dentist's direction.
During First Institute's Dental Assisting Program you'll learn a range of clinical and administrative skills, including:
Administrative Procedures

Dental records, ethics and HIPAA compliance
Oral Health and Endodontics
Lab procedures – primary & secondary impressions, fixed prosthetics and dental implants
Anatomy, Morphology and Dental Sciences
Dental Specialties such as Orthodontics & Pediatric dentistry
Operative and Chair Side Assisting – instrument care and use, charting and patient care & support
Coronal polishing and dental sealants
Dental Radiology – x-ray equipment, safety and digital/film processing
and more!
Qualities and Characteristics
It takes a special person to become a Dental Assistant. You need to have well-balanced qualities that allow you to carry out dental procedures, do administrative work and interact successfully with both patients and Dentists.
The following are qualities that you must have, or cultivate to become an outstanding Dental Assistant:
Empathy – Visiting the Dentist can be scary for many people. You must have excellent patient care skills. Greet people at the door and make sure they are seated. Explain the procedure they are about to have and try to quell any of their worries to make them feel at ease.
Consistency – Stay consistent in the quality of your work all day long. As the day progresses many workers' focus starts to wane. Remember, your patient's oral health is in your hands. Remain alert and keep your attention to detail strong.
Endure Unpleasant Sights – Sometimes a patient's mouth will bleed during procedures. You must be able to withstand the sight of blood in order to do this position.
Strong Listening Skills – You must be able to both listen and relay information to both patients and the Dentist.
Interpersonal Skills – Dental Assisting is a patient-facing job. You must have good communication with patients and successful interaction with Dentists and Dental Hygienists.
The Desire to Always Learn – The best and brightest of any industry is always thirsty, always looking for new information and knowledge. Take some continuing education or sign up for online classes.
Professionalism – Be punctual, dress professionally, have a good attitude.
Are you interested in becoming a Dental Assistant? Check out First Institute's Dental Assisting Program in Libertyville and Crystal Lake, Illinois.
Call First Institute at 815-459-3500 for more information on our programs.
Learn more about First Institute's Dental Assisting program: